In a few words, who are you?
My name is Elsa, I am 29 years old, I am married to a wonderful man and we live our daily life in Marilles with our little Pilou, the rabbit muse of Devine Lingerie. I'm a designer of made-to-measure lingerie. I created my brand Devine Lingerie with my values so that I can live from my passion, from the creation every day that is offered to me. I'm a great dreamer and an optimist, sometimes a little crazy, but I keep my feet on the ground in all my decisions. I am passionate about fashion and art, I have been drawing since I was 7 years old, and fashion is for me a way to express myself.
When and how did you start developing a lingerie line?
I've always been passionate about lingerie, since I was a teenager! I started with ready-to-wear and little by little I put together a pair of trousers and a bra, combined caracos with shorts and that's how lingerie came to me.
When you get to know me well, lingerie is an obvious choice because I love lace, little ruffles, vintage and sensuality. I realised that few women were happy with their lingerie: wrong size, discomfort, not their size in the shop, their size but "ugly", it falls off, it slips off... In short, it's the first thing they take off when they go home.
In 2018 I created a lingerie line for every woman.  Devine Lingerie allows me to take care of each woman individually on a date, to create custom-made lingerie.
Devine Lingerie makes it possible for me to create tailor-made lingerie for every woman. Devine Lingerie is an incredible way to meet new people. I enjoy taking care of each woman with lingerie that is adapted to their body type, their daily life and their style. Comfortable lingerie because it is completely made to measure and without underwire, no matter what the cup size. A real creative challenge every day for each unique woman I meet. A joy to give them a smile and sometimes even to allow them to accept themselves as they are.
Image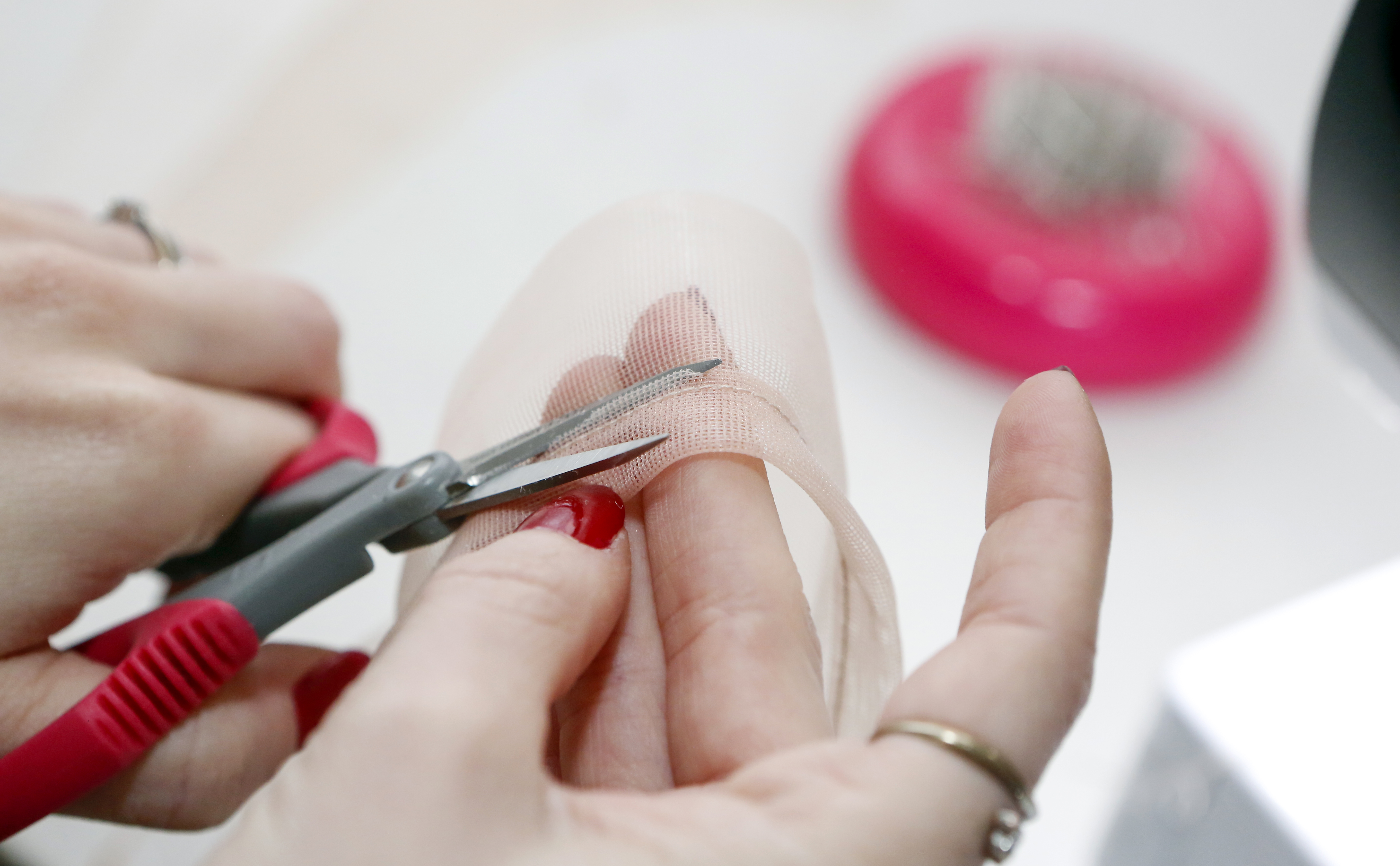 What does this discipline bring you?
Recognition, smiles, tears, joy, a lot of emotion in the eyes of each woman I meet in an appointment. It brings me a lot of creativity, and above all, a different day every day! New ideas, encounters, creative projects that bring me a lot of pride, the well-being of my clients. An immense joy and a lot of love and kindness...
What makes your craft unique?
I create different models each time, a style unique to each woman. Unique pieces that are a real luxury for each one. Everything is handmade in Belgium. The collection created for "This is not Belgium" is exclusive: you won't find it anywhere else. Each piece is handmade and unique.
What qualities do you think are important for a craftsman?
Passion. Every craftsman works with passion and great craftsmanship. He brings you the best experience with his knowledge and expertise. My greatest qualities are my empathy which allows me to understand each of my clients and my creativity which allows me to offer the most suitable piece for each one.
What are the particularities of a Belgian craftsman for you?
In Belgium, being a craftsman and independent is expensive! You have to be seriously motivated by your work.  Happy to sell of course, the Belgian craftsman works with passion, he is proud of his work in which he puts his values. It is not always easy to value his work in Belgium, but luckily the Belgian is curious... he likes to know his local shops and craftsmen. 
If you start from the definition of R. Magritte who says that "to be surrealist is to banish the notion of -déjà vu- and seek out the not yet seen", you are in full surrealism.  What does surrealism mean to you?
Surrealism makes it possible to dream. It takes us into a world where the impossible does not exist. And in my creative and unique lingerie, made-to-measure makes everything possible! When I read René Magritte's sentence, it is absolutely true about all the prejudices we have about ourselves, about the choices we have. If you have a different size difficult to find in a shop, the only choices are to take a size that doesn't suit you or a style that doesn't suit you. You can choose the alternative of believing in yourself and creating your own unique lingerie with me. You have the right to feel good, to feel beautiful, to feel yourself.
Why is surrealism important?
Surrealism, as I said, brings the possibility to believe. It makes you dream and it makes everything possible. It's a positive approach that we can draw inspiration from on a daily basis. Seeing the world differently, imagining, falling back into childhood, seeing yourself as you are with positivity. It may seem surreal to love each other, but let's go for it.  
What do you like in Belgium that you can't find anywhere else?
Belgians! Belgians are fantastic ;)
Image